Perhaps the most annoying (and counterproductive) thing about the most active advocates of state recognition of same-sex marriage is their tendency to paint all those who support the traditional definition of marriage with a broad brush.  They define them as "haters," with Cindy McCain apparently joining their ranks by posing for a picture with duct tape on her mouth and a "No H8" tattoo on her cheek (or agreeing to have said accessories photoshopped in).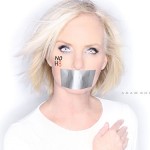 As if someone somewhere is preventing her from speaking out on gay marriage. Yet, this very image is the inversion of reality. If someone speaks out in favor of gay marriage, they instantly earn the accolades of the PC powers that be and are often heralded for their courage. But, if they dare challenge the politically correct view on this controversial topic, they are frequently branded as haters and their livelihoods threatened.
Larry O'Connor reminds us of "Scott Eckern, the Artistic Director of Sacramento Music Theatre [who] was forced to resign after the public revelation that he donated $1,000 to the Prop. 8 campaign."  It is the gay marriage activists who wish to silence those opposed to state recognition of same-sex marriage.
Shouldn't they want to hear their arguments so they can better challenge them in the court of public opinion?  But instead, they seek to ostracize them, punishing them for their point of view.  Via Glenn, we learn further details of this "new blacklist," no, not against advocates of same-ex marriage, but against those of traditional marriage:
A $26,000 contribution to the initiative that banned same-sex marriage in California appears to have cost a 96-year-old former Mormon temple president his seat on the board that oversees Oakland's historic Paramount Theatre.
Now, if this Mormon used his position on said board to advocate traditional marriage, the City Elders of Oakland would have a point, but if he happens to hold the view he does, while attending, without prejudice, to his duties on the board, then there is no problem.  Instead of punishing such an individual for his position on gay marriage, they should learn to counter, in a civil manner, his argument.
One reason, I believe, we've been losing these battles in popular referendum after popular referendum, in initiative battle after initiative battle, is the failure of those advocating this social change to argue their case.  Instead, it often appears they spend the better part of their time demonizing those who hold a politically incorrect opinion.
And while they accuse their adversaries of hatred, they're manifesting an even more bitter form of animus in their attitude toward their adversaries.  The real haters are not those they accuse, but those leveling the accusation.
They need to let go of their hate and open their hearts to their opponents so they can, in a responsible manner, counter their arguments.