Over at the Huffington Post, Stefan Sirucek has his panties all in a bundle because, well:
Closer inspection of a photo of Sarah Palin, during a speech in which she mocked President Obama for his use of a teleprompter, reveals several notes written on her left hand. The words "Energy", "Tax" and "Lift American Spirits" are clearly visible. There's also what appears to read as "Budget cuts" with the word Budget crossed out.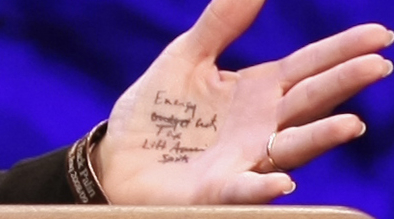 Oh no! She wrote notes on her hand. My, my, my, my, my, my, my. He files this under "Hypocrisy."  Huh?  Huh?
So, what's wrong with that?  She was just reminding herself of the issues she wanted to address.  She doesn't even have talking points.  And lefties compare this to Obama using a Teleprompter.  I mean, on said device, said Democrat gets the full text of his speeches.  "The notes," as the folks on Founding Bloggers put it, "appear to be very innocuous."  Very innocuous.
These aren't the answers to questions.  They're not even questions.  And such scribbling is much less newsworthy than. say, the Commander in Chief mispronouncing corpsman.
Memo to Sarah Palin:  given the obsession of the left in using anything and everything against you, I suggest next time you write, "there's no E in P-O-T-A-T-O," on your hand.
UPDATE: Ann Althouse offers:
Isn't it funny how she caught our attention with her scrawled-on hand? I picture her — hanging out with Todd today — laughing at how absurdly fascinated everyone is with her.
I bet this diva's right. Just read the whole thing!