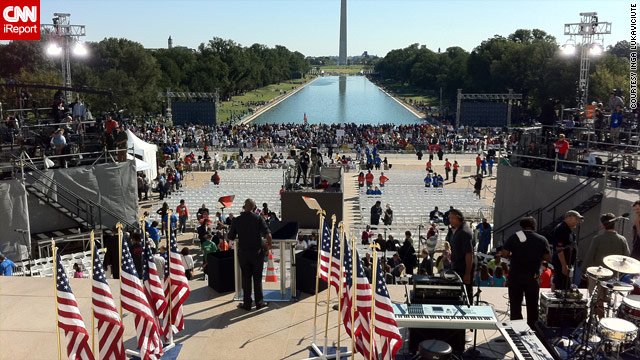 Organizers claim a wide range of supporters, some of whom are already associated with liberal causes — like union workers, environmentalists, gay activists and student leaders. But "One Nation" also claims backing from less obvious quarters — like senior citizens, veterans and faith leaders.
As GatewayPundit reports, "despite the fact that thousands of supporters were given free rides by unions and the NAACP to the rally", they couldn't muster a very substantial crowd.
For the Glenn Beck/Sarah Palin rally in August, the crowds filled in both sides of the Reflecting Pool.
UPDATE:  From a news source which leans left:
Organizers claimed they had as many participants as Beck's rally.  But Saturday's crowds were less dense and didn't reach as far to the edges as they did during Beck's rally. The National Park Service stopped providing official crowd estimates in the 1990s.