"To hear top Democrats tell it," Jeanne Cummings writes in Politico, "the party is being wildly outgunned this year in the fight for campaign cash as Republicans rely on outside groups to funnel money to GOP contenders."
The "numbers," however, "tell a different story":
It's true that conservative third-party groups are outspending their Democratic rivals. But the Democrats still have a sizable cash advantage in their party committees – making this year's elections a lot more of a fair fight than Vice President Joe Biden and House Speaker Nancy Pelosi let on.

So far, the latest figures show that the Democratic Party machinery has outraised its Republican counterpart in this campaign cycle by almost $270 million.

And even when outside spending on television advertising and direct mail is added to the mix, Republicans still haven't closed the gap.
And let's not forget the amount unions, particularly public employee unions are spending on behalf of the Democrats.  The indispensable Micheal Barone reports that the American Federation of State, County and Municipal Employees (AFSCME) "will be contributing $87.5 million in this cycle, entirely or almost entirely to Democrats."  The New York Times also notes the Democrats' funding advantage, but ignores the extent of their union support.   Over at Redstate, Dan McLaughlin provides a graphic (from the Wall Street Journal) which illustrates what the Times* ignores: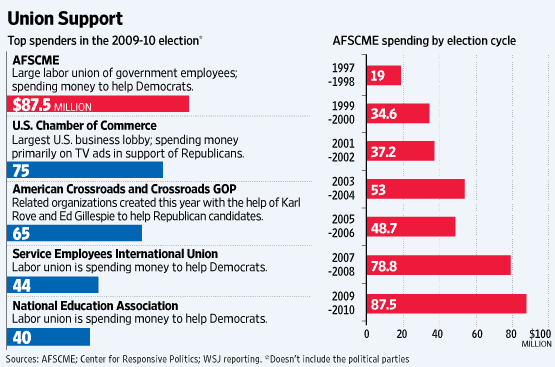 "That's right," McLaughlin writes, "three of the five largest campaign spenders this year are not business or pro-business groups but unions afffiliated with the Democrats and dominated by public employees."  Don't think Joe Biden will be telling us that; doesn't fit the narrative.
*which has AFSCME spending a paltry "$5 million".