…It's just probably not man-made.
Bruce re-tweeted this graphic from Sam Thiessen's stream. I don't necessarily agree with its exact argument about volcanism. But it is a nifty reminder that we've always had climate swings – and our latest swing is within the natural norms: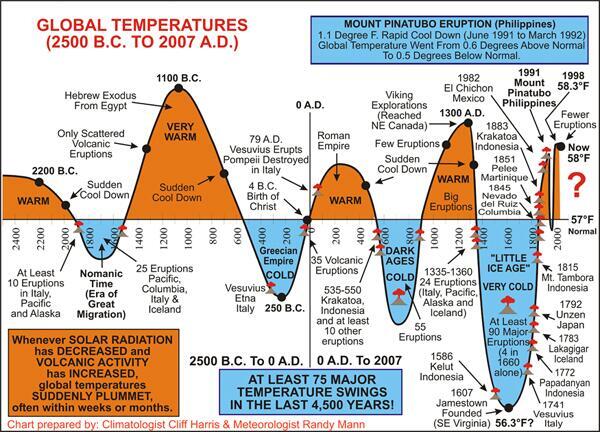 From what I understand (feel free to update me/everyone in the comments), the man-made CO2 increases are insufficient to explain any of these swings, and recent atmospheric measurements show a distinct *lack* of effects or "signature" that should come from any CO2 Greenhouse effect.
Given that, and given the normality of global climate change, there is precious little reason to blame it on humankind. The major advocates of Blaming Man are people with axes to grind: they want to keep getting their multi-billions of research & conference grants, they want their companies to be given government subsidies, they want world socialism, etc.