To continue my series on this, I've been accumulating chart links. There are so many, especially on Zero Hedge which has great coverage. I'll make some introductory remarks, then show the charts.
As a capitalist, I have no objection to the good inequality that investors, employers and consumers award by their actions in the marketplace. The problem is inequality awarded by force or fraud. That includes crime of course; but the systemic problems in our economy today arise, sooner or later, from *government force* and fraud. Under President Obama – and our nut-job economic planners at the Federal Reserve – we have more government intervention than ever. We also have more inequality. It can't be a coincidence.
I believe that Obama likes it on some level, because the more inequality there is, the more he can offer (still more) government intervention as the alleged "solution". While our problems did not start with Obama, he has exploited and worsened them because inequality of power – taking ever-greater amounts of power away from the People, giving ever-more power to the Party/bureaucrats/government – is the deep tendency of the State, and as well, the deep goal of the Left.
I could talk about the explosion of welfare dependency under Obama, which rapes the "working poor" (among others) for the sake of the "lazy poor". But my focus today is on the rape of the middle class for the so-called "One Percent", the wealthier people who gain from our government-planned economy and government-rigged markets.
The charts show that under Obama, U.S. income inequality has increased and may be the biggest it's ever been.
More charts:
Another view of the same fact.
Government has boomed so much that it now equals Silicon Valley for economic confidence.
Household income for the bottom 90% has been stagnant for four decades.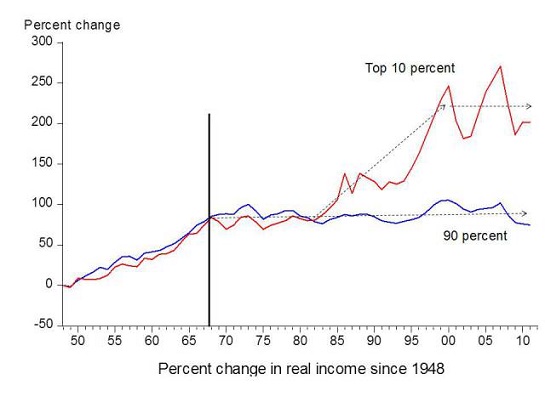 In today's world, $9/hr jobs aren't just for teenagers anymore; more older/educated people are stuck in them.
Inequality in one chart (click to enlarge):
But who is really getting ahead? Not the top 1%; really the top 0.01%.
Note the extra peak under Obama.
Again: I believe that President Obama has no real interest in solving any of this. Politically, he exploits it as a reason for even more government intervention in the economy. Which won't solve anything, because government intervention is the cause any excess/unfair inequality to begin with (inequality that wasn't awarded by people's voluntary actions in free markets), and because Obama's deep goal is government intervention for its own sake. It's a racket that he loves to play.