Last Tuesday, Obama gave his "farewell" address, which prompted all sorts of ridiculous, weepy posts from Obama supporters about how "classy" he was and how much they would miss him, and how his administration was "scandal-free." Needless to say, these folks will remain clueless as to why Trump won in November as long as they put Obama on a pedestal. Most of us don't remember the last eight years with any fondness at all. Instead, we remember a thin-skinned, spiteful, petty man who always had his mind set on one thing, and that was advancing his own power and his party's grip on power.
Back in October 2013, I wrote a post where I called Obama's administration the Dawn Davenport Presidency, and it has remained as true in the intervening years as it was then. At the time, I used the website meme creator to create a meme which I considered using to illustrate that post, but I didn't post it at the time. Now that there are only five days remaining in Obama's second term, I am bringing it back, because it provides one explanation for what happened with the voters in 2016.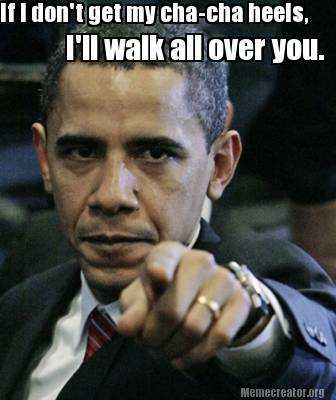 Of course, this election was also about Hillary Clinton.
In the past week, there has been a lot of buzz about Meryl Streep's harangue at the Golden Globe Awards. Over the summer, though, Streep also attracted attention for two things, her film about Florence Foster Jenkins, and her deranged appearance during her speech at the Democrat National Convention in August. The Jenkins film was what interested me, though, because it seemed to offer a perfect metaphor for Clinton's political career. Florence Foster Jenkins was famous for having a tin ear and little talent in her chosen field. She benefited largely from her husband's connections.
Last February at ZeroHedge, I saw a great post outlining Hillary Clinton's Six Foreign Policy Catastrophes where a commenter named Elliott Eldrich memorably declared: "Hillary's greatest ability is her uncanny talent for producing the most wretched results imaginable, and then loudly claiming how amazing her accomplishments are. I believe it's because she somehow manages to convince herself of this first, which makes selling it to others all the easier. She's the Florence Foster Jenkins of statecraft."

A few months later, around the time of the Streep film's release, even a writer at the Huffington Post–evidently a disaffected Bernie supporter–picked up on the idea and wrote an article comparing the two:
A) Both were wealthy, idolized in their adopted hometown, New York City, and intensely determined to succeed.

B) Each aspired to perform on the big stage of their selected vocations, Clinton as President in the White House, Jenkins as coloratura at Carnegie Hall.

C) Each was indulged and promoted by a philandering husband. (In the Jenkins movie, it is Hugh Grant, a charming choice).

D) Associates and critics praised both, seemingly without regard to reality: Hillary for being a "progressive" though she changes her position every so often to show she is not beholden to Goldman Sachs or a war monger; and Florence for being a "singer" though she displayed little understanding of, well, singing.

E) Neither could hit high notes, often sounded flat and were accused of shrieking.
In the wake of the election, the similarity between the two should be all the more obvious. Jenkins is famous for the disastrous performance at Carnegie Hall, just as Hillary Clinton will now be famous for the disaster at the Javits Center, which left her supporters in tears and where Hillary didn't even put in an appearance. Consequently, this Hillary meme pretty much wrote itself.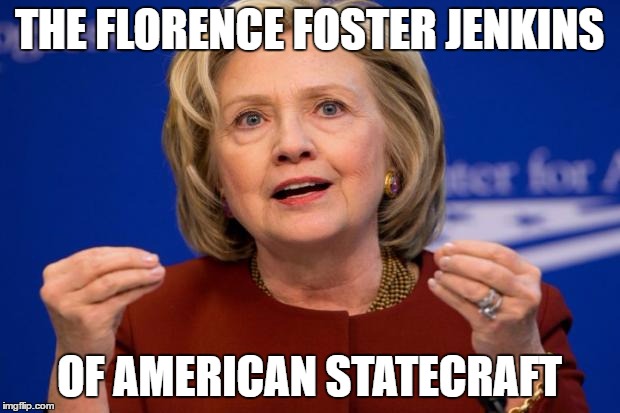 And finally, we have President-Elect Donald Trump.
Last December, when I spoke with people who said they couldn't understand the Trump phenomenon, I often referred them to this article by Ben Domenech at The Federalist, which memorably declared in its sub-head "Barack Obama's political legacy is the rise of Donald Trump." Obama's divide-and-conquer style of governance naturally inspired a great amount of distrust, resentment and anger. As Domenech memorably characterized the Obama administration:
It is no accident that President Obama's America has given rise to Donald Trump. It is an America that is more tribalist, where people feel more racially and religiously divided; more politically correct, where people feel less free to speak their minds; and it is an America where trust in the nation's elites, whose skills are credentialed but unproven, are at historic lows.
These are the wages of progressivism at the end of the day. Big government inevitably leads to government incompetence. That incompetence leads to growing and now dominant distrust – both in government's basic competence, and in the values of the people who still insist upon it. Our modern elites respond to that rational distrust by smearing it as vile hatred, which further divides and toxifies our politics. And Trump is a perfect personality to exploit these divides, offering the promise of an authoritarian who represents the people in place of an authoritarian who represented the elites.
Back in July 2015, Victor Davis Hanson declared Trump and Obama "Two of a Kind," a theme that animated some of his other writing during the election. In an article written just over a year ago, Hanson furthered the idea that Obama's many failures in office became remarkable opportunities for Trump:
Barack Obama is the Dr. Frankenstein of the supposed Trump monster.

If a charismatic, Ivy League-educated, landmark president who entered office with unprecedented goodwill and both houses of Congress on his side could manage to wreck the Democratic Party while turning off 52 percent of the country, then many voters feel that a billionaire New York dealmaker could hardly do worse.

If Obama had ruled from the center, dealt with the debt, addressed radical Islamic terrorism, dropped the politically correct euphemisms and pushed tax and entitlement reform rather than Obamacare, Trump might have little traction. A boring Hillary Clinton and a staid Jeb Bush would most likely be replaying the 1992 election between Bill Clinton and George H.W. Bush — with Trump as a watered-down version of third-party outsider Ross Perot.
Hence, a few weeks after the election, Hanson made clear that the election of Trump was a prime example of the "unintended consequences" of the Obama presidency. And so we have our final meme in this 2016 election trilogy.