Last Tuesday, Obama gave his "farewell" address, which prompted all sorts of ridiculous, weepy posts from Obama supporters about how "classy" he was and how much they would miss him, and how his administration was "scandal-free." Needless to say, these folks will remain clueless as to why Trump won in November as long as they put Obama on a pedestal. Most of us don't remember the last eight years with any fondness at all. Instead, we remember a thin-skinned, spiteful, petty man who always had his mind set on one thing, and that was advancing his own power and his party's grip on power.
Back in October 2013, I wrote a post where I called Obama's administration the Dawn Davenport Presidency, and it has remained as true in the intervening years as it was then. At the time, I used the website meme creator to create a meme which I considered using to illustrate that post, but I didn't post it at the time. Now that there are only five days remaining in Obama's second term, I am bringing it back, because it provides one explanation for what happened with the voters in 2016.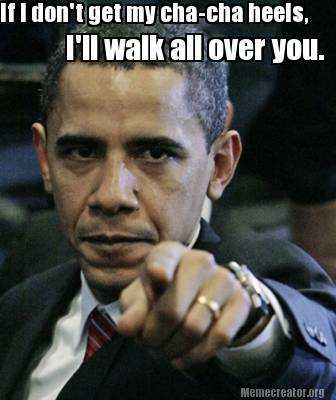 Of course, this election was also about Hillary Clinton.
In the past week, there has been a lot of buzz about Meryl Streep's harangue at the Golden Globe Awards. Over the summer, though, Streep also attracted attention for two things, her film about Florence Foster Jenkins, and her deranged appearance during her speech at the Democrat National Convention in August. The Jenkins film was what interested me, though, because it seemed to offer a perfect metaphor for Clinton's political career. Florence Foster Jenkins was famous for having a tin ear and little talent in her chosen field. She benefited largely from her husband's connections.
Last February at ZeroHedge, I saw a great post outlining Hillary Clinton's Six Foreign Policy Catastrophes where a commenter named Elliott Eldrich memorably declared: "Hillary's greatest ability is her uncanny talent for producing the most wretched results imaginable, and then loudly claiming how amazing her accomplishments are. I believe it's because she somehow manages to convince herself of this first, which makes selling it to others all the easier. She's the Florence Foster Jenkins of statecraft."
[Read more…]