When I put up my first post on social liberalism several weeks ago, I envisioned a series of posts that would discuss many of the implications of the fact that modern liberalism is more a social phenomenon than an intellectual one.  I've done that in part, but have until now neglected to mention one of the largest implications of all, namely that most modern liberals make easy targets for propagandists of all stripes because their political identity is driven more by their feelings than by the facts, and so they rarely exert critical judgement over the memes and narratives of the moment.
Quite to the contrary:  to exert critical judgement is automatically to invite suspicion, because it means asking difficult questions, seeking facts, pointing out fallacies, noting inconsistencies, all of which make modern liberals profoundly uncomfortable because those sorts of activities advertise the questioner's willingness to dissent from the orthodoxy.
Neo-Neocon wrote a great post many years ago where she quoted Milan Kundera's Book of Laughter and Forgetting on the power of "Circle Dancing":
Circle dancing is magic. It speaks to us through the millennia from the depths of human memory. Madame Raphael had cut the picture out of the magazine and would stare at it and dream. She too longed to dance in a ring. All her life she had looked for a group of people she could hold hands with and dance with in a ring. First she looked for them in the Methodist Church (her father was a religious fanatic), then in the Communist Party, then among the Trotskyites, then in the anti-abortion movement (A child has a right to life!), then in the pro-abortion movement (A woman has a right to her body!); she looked for them among the Marxists, the psychoanalysts, and the structuralists; she looked for them in Lenin, Zen Buddhism, Mao Tse-tung, yogis, the nouveau roman, Brechtian theater, the theater of panic; and finally she hoped she could at least become one with her students, which meant she always forced them to think and say exactly what she thought and said, and together they formed a single body and a single soul, a single ring and a single dance.
To question is to step outside the  circle, to resist the lure of the dance.  And so the memes and narratives proliferate, pushed on by those who "feel moved" by them and are too afraid to question them.
Among the many liberals I know, this week's meme is a viral video about "the wealth gap."  I first noticed a college acquaintance (and an enthusiastic Elizabeth Warren supporter) mention it on Facebook on Sunday, and have noticed at least three other references to it by others since then.  The video is only 6 minutes and 24 seconds long, but if you're like me, after about three minutes, it will seem like it is going on forever.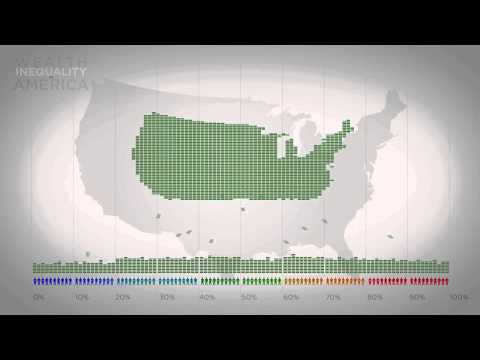 I've recorded some of my thoughts below the fold.